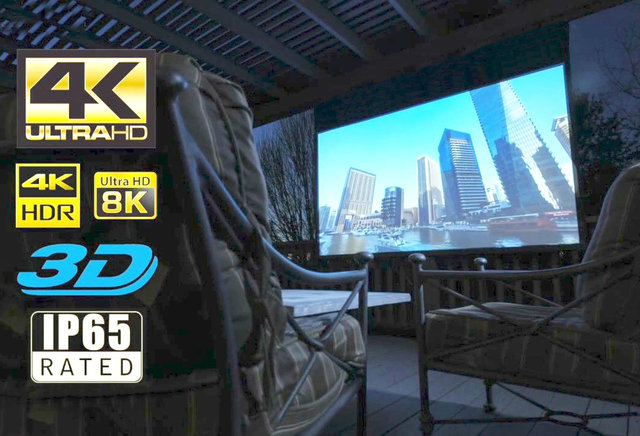 3D Movie Night / Gameday Big Screen
We are very excited, and proud introduce our new "3D Movie Night & Gameday Big Screen". This one of a kind system is designed for exceptional image quality for indoor or outdoor, nighttime viewing. Rated 5 out of 5 stars from our audiences. Our goal is to give our customers the best viewing experience available in today's market. After months of research and development, we honestly feel you've never watched, listened or connected anything quite like this. It's a lot of information so bear with me and here we go in …3…2…

1
The Glasses-
3D DLP "Digital light Projection" Link Active shutter glasses. With their lightweight design and comfortable fit they are large enough to fit over most prescription glasses. These are not your paper glasses. The high speed LCD lenses provide millisecond response time to protect your eyes from eyestrain and guaranteed to give you the best 3D experience possible. Currently, 7 pairs of glasses are provided with the rental and if needed, more can be provided by simply giving us a call.

The Projector & Screen-
A 3D 1080p Full HD resolution projector to deliver stunning movies and games with a bright and colorful 3000 lumens. It was then paired with a 120" Indoor/Outdoor front or rear 4K Ultra HD, Active 3D and HDR ready projection screen.

The Player-
In addition, our system is compatible with HDMI cable and satellite boxes for Game Day on the large screen. It is also compatible with MHL devices such as HD Cast Pro, Roku Streaming Stick, and smart phones for music and videos. With its built-in Wi-Fi, 4K Ultra Resolution Upscaling for Blu-Rays, DVDs and online content you can wirelessly access 300+ entertainment apps and Smart services, including Netflix, YouTube, Hulu Plus, Amazon Instant Video & more in all that high definition has to offer.

The Sound System-
Experience HD Sound with our 1000 Watt 5.1 Dolby Digital Surround System where you can connect via Bluetooth to enjoy any type of audio including laptops and tablets for Karaoke. That's right! I said Karaoke. It has 2 microphone inputs with echo control. "Microphones rented separately" With this sound system you have full control of your experience by independently controlling the volume of each speaker and the subwoofer easily from the simple to use remote. The system also features LED lights to light your way to your seats and creates a wonderful movie theater effect. The Best part, it's all available under the beautiful Colorado stars.
Front Projection 12' x 22'




Rear Projection 12' x 36'




Screen- 7.5' Tall x 9.5' Wide =120" Diagonal




Indoor or Outdoor 20-30 Guests




Monitored by Customer


3D Blu-Rays & Cable Boxes not Provided.
Outlets- 1



3D Safety Information





FREE - Setup and Takedown




FREE - Delivery*





Half Day- 4 Hour Rental

:

$249.00




Full Day- 8 Hour Rental:

$279.00




All Day- 12 Hour Rental:

$299.00




All Day + Overnight:

$349.00




Overnight Only:

Call for pricing and Availability